Testimonials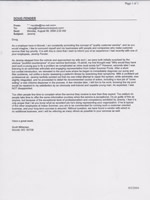 "As an employer here in Monett, I am constantly promoting the concept of "quality customer service", and as you would imagine, I like to surround myself and my businesses with people and companies who make customer service their top priority. It is with this in mind that I wish to inform you or an experience I had recently with one of your employees, Jeremy Fender."
"As Jeremy stepped from the vehicle and approached my wife and I, we were both initially surprised by the obvious "youthful countenance" of your service technician. I'll admit, my first thought was "why would they have sent such a young guy to fix a problem as complicated as nine must surely be?" However, seconds later I was listening to an extremely articulate and engaging representative from Indian Summer Pools. After a short but cordial introduction, we retreated to the pool area where he began to immediately diagnose our pump and filter problems, not unlike a doctor assessing a patient's illness by examining their symptoms. With a confident yet professional air, Jeremy tactfully pointed out that my own initial attempt to repair the system, while admirable, was slightly misguided, and he proceeded to detail his recommended course of action, including a nice job of "cross selling" a new chlorine dispenser in the process. A few minutes later, I left him to his work, knowing that my pool would be repaired to my satisfaction by an obviously well-trained and capable young man. As expected, I was NOT disappointed."
"Too often people line time to complain when the service they receive is less than they expect. Too seldom do people take time to offer the same informative courtesy when the service is exceptional. I'm as guilty of this as anyone, but because of the exceptional level of professionalism and competency exhibited by Jeremy, I feel it is only proper that I let you know what an excellent job he's doing representing your organization. If he is typical of the other employees at Indian summer, you are to be commended for running such a customer oriented business, and your long-term success is assured. Without question, we have found a vendor with which to do additional business, and I will be referring as many others as possible to your services as well."
Scott W.
Monett, MO 65708
---
"I wanted to take a few minutes and write you and tell you how much we like the pool you recently installed for us, and to thank you for the efforts of your professional team."
"As we were enjoying the pool this afternoon with some out of town family members and they were going on and on about the design, the look, the feel and the functionality and versatility of the pool, I realized how fortunate we were to have chosen Indian Summer Pool to design and build our pool. From the very beginning, you instilled confidence in me, that if we chose your company and would have confidence in your design, that I would not only be happy with the project, but that in fact, we would add to the resale value of our home. You took the time to explain that while I would spend more for a custom design as compared to a standard pool design and installation, that I would also enhance the look and monetary value of the home. I have recently had my home appraised, and we have in fact significantly increased the value of our home. More importantly to me, however, is that you accomplished one of my most important goals from the very beginning. Your team was able to make the pool look and feel like it is part of the home. It looks and feels like it has always been here. It does not look like it was an afterthought."
"I thought about the way you tailored the design of the pool to the natural lay of our property, how it would best function, how would look and how it would fit our family needs. You came back with a negative edge pool that would empty into a "kiddie pool". You said that you had always wanted to do a pool like that, and that you thought with our property layout, but more importantly that because Brandon was only two years old and we were going to have little ones around for a long time, that this would be the perfect time to try this. Christy and I immediately liked the idea, but we really appreciated the personal touch that you were adding for our family. That is great service."
"The entire process has been that way. You and your team have always made us feel like we are your most important customers. I know you are always quite busy, but whenever I need anything, you or your team responds immediately. I appreciate you, your team, and your reliable service. Most of all I appreciate the personalized service and the quality workmanship. Keep up the good work."
Bruce T.
---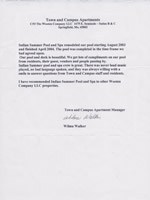 "Indian Summer Pool and Spa remodeled our pool starting August 2003 and finished April 2004. The pool was completed in the time frame we had agreed upon."
"Our pool and deck is beautiful. We get a lot of compliments on our pool from residents, their guest, vendors and people passing by."
"Indian Summer pool and spa crew is great. There was never loud music played, no bad language spoken, and they were always willing with a smile to answer questions from Town and Campus staff and residents."
"I have recommended Indian Summer Pool and Spa to other Wooten Company LLC properties."
Wilma W.
---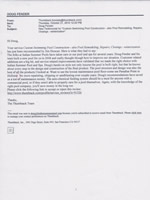 "The folks at Indian Summer Pools have taken care of our pool and spa for several years. Doug Fender and his team built a new pool for us in 2008 and really thought though how to improve our situation. Customer related additions are a big hit, and service related improvements have validated that we made the right choice with Indian Summer Pool and Spa. Doug's hands-on style not only insures the pool is built right, but that he knows about every step in the design and construction of the final product. The pool structure and design was also the best of all the products I looked at. Want to see the lowest maintenance pool floor-come see Paradise Point in Hollister. No more repainting, chipping or sandblasting ever couple years. Doug's recommendations have saved us a ton of maintenance money. The auto-chemical feeding system should be a must for anyone with a commercial pool, or if they aren't able to properly care for a pool themselves. Again, with the knowledge of the right pool company, you'll save money in the long run."
Jim D.
---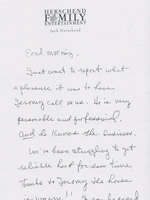 "Just want to report what a pleasure it was to have Jeremy call on us. He is very personable and professional and he knows the business. We have been struggling to get a reliable pool for some time. Thanks to Jeremy the house is warm. You can be proud of him."
Jack H.
---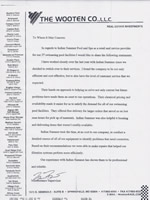 "In regards to Indian Summer Pool and Spa as a retail and service provider for our 27 swimming pool facilities I would like to share the following statements."
"I have worked closely over the last year with Indian Summer since we decided to switch over to their services. I found the company to be not only efficient and cost effective, but to also have the level of customer service that we expected."
"Their hands on approach to helping us solve not only current but future problems have made them an asset to our operations. Their chemical pricing and availability made it easier for us to satisfy the demand for all of our swimming pool facilities. They offered free delivery for larger orders that saved us on lost man-hours for pick up of Materials. Indian Summer was also helpful it locating and delivering items that weren't readily available."
"Indian Summer took the time, at no cost to our company, lo conduct a detailed census of all of our equipment to identify problems that need correction. Based on their recommendations we were able to make repairs that helped our filtration systems perform more efficiently."
"Our experience with Indian Summer has shown them to be professional and reliable."
The Wooten CO,LLC
---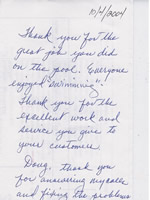 "Thank you for the great job you did on the pool. Everyone enjoyed "swimming". Thank you for the excellent work and service you give to your customer. Doug, thank you for answering my calls and fixing the problems or concerns I had. That made a great difference. We are looking forward to our summers."
Beverly T.
---
"These guys are just simply awesome. Totally customer oriented, fairly priced and completely professional. If you live at the Lake of the Ozarks, you should consider them over the local providers. More responsive and just as competent. I'll be using them from now on....."
Gene H.
Lake Of The Ozarks
---
"The Saddle Brooke Property Owners Association (POA) contracted with Indian Summer last year for seasonal maintenance and repairs on its pool. Mr. Doug Fender managed that contract for Indian Summer and was prompt and responsive to all of our needs and contract requirements. Due to the quality of service received last year the association will continue to contract with Indian Summer for these services in this year as well. Indian Summer and Doug Fender in particular, are highly recommended for the pool services they provide."
Joel R.
President
Saddlebrooke POA
---
"The guys got it delivered and put up on my patio they differently went the extra mile! It really looks great! Thanks again I'm extremely happy with the spa."
Justin