Pool Remodeling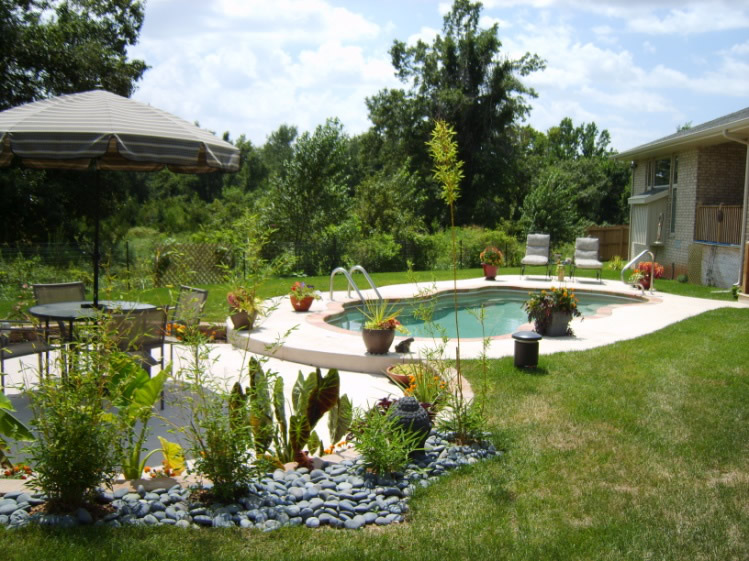 Is your Pool and or Spa living space not meeting your needs anymore? Possibly there's been damage over the years or maybe it's just looking its age. Whatever the issues, let the professionals at Indian Summer Pool and Spa first Design a Renovation that will Repair, Upgrade and Spice up your Pool / Spa / Outdoor living area to state of the art condition.   After carefully accessing your needs and desires, we'll come up with a gorgeous design that will address all the issues and upgrades and will then complete the job competently with their skilled installers. In the last 10 years, the industry has made tremendous strides in minimizing the amount of maintenance required for a swimming pool. So while you're changing the look of your pool, you have a lot of other options too:
Chlorine free systems
Energy efficient heat pumps and solar heaters
Energy efficient pumps, filters and plumbing
Ozonators (to reduce the use of chlorine)
Mineral systems (to stabilize the water)
Salt water based chlorine generators
Computerized automation systems
Built-in automatic pool covers
Robotic cleaners
To schedule a one-on-one consultation or for more information
On the beautification side, some of your new options include:
Long life aggregate-based interior finishes, such as PebbleTec
Waterfalls, water curtains, rain walls, weeping walls
Water arches, fountains, bubblers, aerators, scuppers
Natural stone or custom acrylic decking
Built-in tables, underwater seating
Tanning ledges, beach entries
Mosaics and all-tile finishes
Fiber optic & LED lighting
Raised gardens, grottos
Fire woks, fire pits
You can even add a built-in spa, a vanishing edge, or convert to a perimeter overflow swimming pool.
Click Here to see before and after photos of our work...
Don't settle for old and ordinary! We can add a Spa, Fountains, Waterfalls, LED lighting, replacing inadequate or failed plumbing lines at the same time.  We can install automated controls and chemical control systems for easy care of your pool and or spa using Green technologies. Control your pool from anywhere with your iPhone, iPpad or Android device. Totally transform your pool area for years of additional pleasurable use.
Indian Summer Pool and Spa Offers design services and installation of Outdoor Living products as well.   We can design and install Outdoor structures like Pergolas, Pool Houses, Gazebos, or Covered Patios with all types of decking surfaces including Pavers, Spray Decking, Stamped Concrete.  Add Outdoor Fireplaces, Kitchens and Fire bowls to add to your enjoyment!  Top it all off with a beautiful Landscape package and you're set to have great summers for years to come.  Save the headaches and enjoy your beautiful home...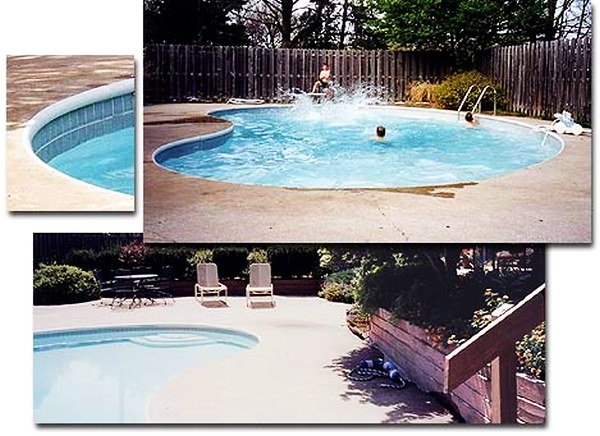 EXAMPLE:
This 15 year old pool & area still provided enjoyment, but was showing its age:
The tile had faded to grey
The coping was hardening and cracking around the pools edge
The concrete deck was cracked and settled uneven
The retaining walls, originally built of railroad timbers, were rotting in the ground
---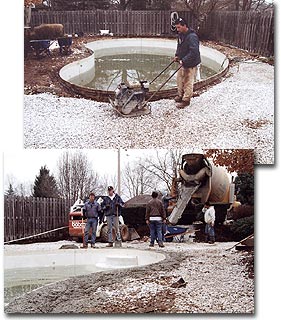 Renovation starts with removing the old concrete deck, rotten wooden retaining walls, dingy pool tile & badly deteriorated plastic coping.
Top soil was put into future planter spots, gravel and rebar with concrete reinforcement beam for straightening fiberglass walls were then installed in preparation for new stamped concrete deck placement.
---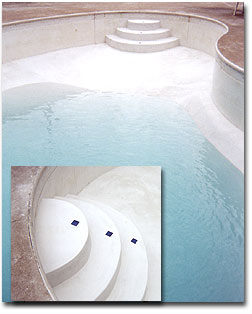 The existing stairs and pool bottom got a new coat of white plaster. It brightened up the dingy old plaster and provided a new smooth finish to walk on. Today's pools can have a variety of finishes including striking and long lasting pebble types shown below.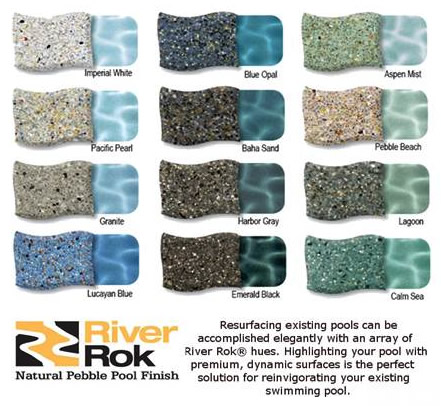 ---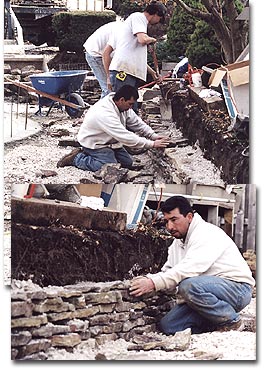 New Arkansas brown sandstone rock walls replacing rotten wood ties are laid out and then dry stacked by hand before the deck went it to avoid damaging the deck. Backfill was granular rock so no future settling of the wall would occur.
It all resulted in helping to creating a warm natural space that will last many more years than its wood counterpart.
---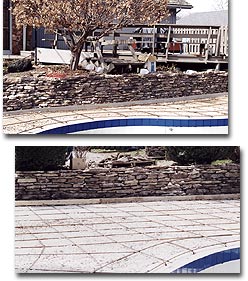 New frost proof pool tile is set and rock walls are finished. Rebar is in place for installing the new ashlar slate stamped concrete decking.
---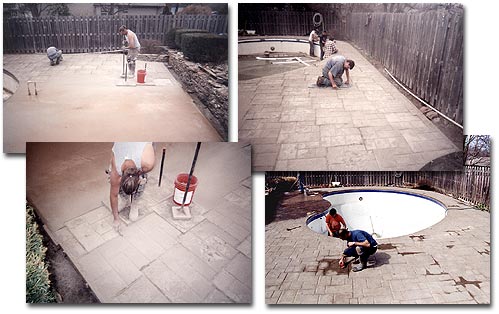 New concrete deck is stained with color and then stamped to look like natural rock.
Edges of each rock are rolled over the edge of the pool's perimeter by hand to achieve a more natural effect. Natural rock looking stamped decking is wrapped around pool's edge for a custom finished look both in and out of the water.
---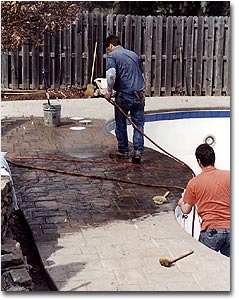 The color comes alive when the new stained decking is sealed. Here the first coat of sealer is being applied.
Two to three coats of sealer is applied for your deck's protection. With each sealer application the stain's coloring and sheen of the sealer appear richer.
You can see more of our custom decking jobs, under our Residential or Commercial pool pages.
---
Now, are you ready to see this job completed?
(Don't forget to scroll back to the top and see the before picture again!)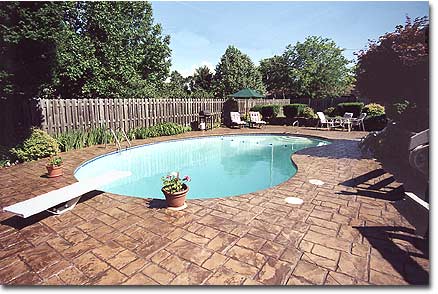 We'll be happy to provide you with a number of options for enhancing your existing pool area. Our consultations are free, so what are you waiting for? CONTACT US.
---
Whether you need some simple repairs, or a COMPLETE MAKEOVER, we can help you
For more information about Renovation and Remodeling please use our web form, or call us at 417.831.7625.